Crete is the largest island in Greece. It has varied terrain ranging from fine-sand beaches to mountains. It has a rich history starting from its Minoan roots, the Venetian and the Ottoman occupations and also German occupation of the Second World War.
If you love Greek mythology, then Crete is the place to visit. It is the birthplace of the Greek God, Zeus.
Two caves in the mountains of Crete vie for the honour of being known as the birthplace of Zeus, these are the Diketon Psychro Cave in south-central Crete and the Ideon Cave on Mount Ida.
Zeus was one of six children. The story goes that his mother (Rhea) fearing for the fate of her unborn child (the other siblings were eaten by their father Cronus), hid in the mountains of Crete and brought forth the child in secret.
If history or Greek mythology is not your thing then the beaches of Crete may interest you.
There are too many beautiful beaches in Crete to mention them all. Amongst the most popular beaches are Balos beach in Chania, Vai beach in Lassithi and Preveli beach in Rethymno, to name but a few.
With swimming from April to November, Crete has one of the longest seasons in the region. We stayed in Crete for one week in Hersonissos, which is a town in the north of Crete bordering the Mediterranean/ Aegean Sea.
Hersonissos is the largest tourist resort in Crete and a modern town with dozens of shops, restaurants and bars. There is enough in Hersonissos to suit every taste.
Visa Requirements
For Ph Passport Holder:
Schengen Visa is required.
If you are travelling from the Philippines, you have to apply for a Schengen visa. There are various flights from Manila to Athens, then you have to get another local flight to Athens to Crete.
For British Passport Holder:
No Visa required. Direct flights to Crete are available in all the major airport in the UK.
Check Skyscanner for cheap flights to Crete.
Trip Budget
| | | |
| --- | --- | --- |
| Travel Essentials | Description ( Cost) | Total Amount Spent ( GBP & PHP) |
| Activities | Psychro Cave, Venetian Fortress, Knossos and Fortezza (pp) | £30 | PHP 2,028 |
| Accommodation | Complimentary provided by Travelopo.com | – |
| Car hire | 7 days inclusive of the fully comprehensive insurance | £272 | PHP 18,380 |
| Santorini Day trip | All transport costs included (pp) (ferry and bus) | £113 | PHP 7,635 |
| Flights | Manchester – Heraklion – Manchester (pp) | £218 | Php 14,730 |
Suggested Accommodation
We stayed in Erofili Apartment in Hersonissos in collaboration with Travelopo. The apartment has all the amenities that we need. Our apartment hosts are very helpful and welcoming. The location of the apartment is very accessible even by public transport.
It is also close to the high street and restaurants. We are truly happy with our stay.
Disclaimer: Our accommodation in Crete was provided complimentary in return for an honest opinion about the place and the apartment. All other activities, expenses, images and opinion are my own otherwise stated.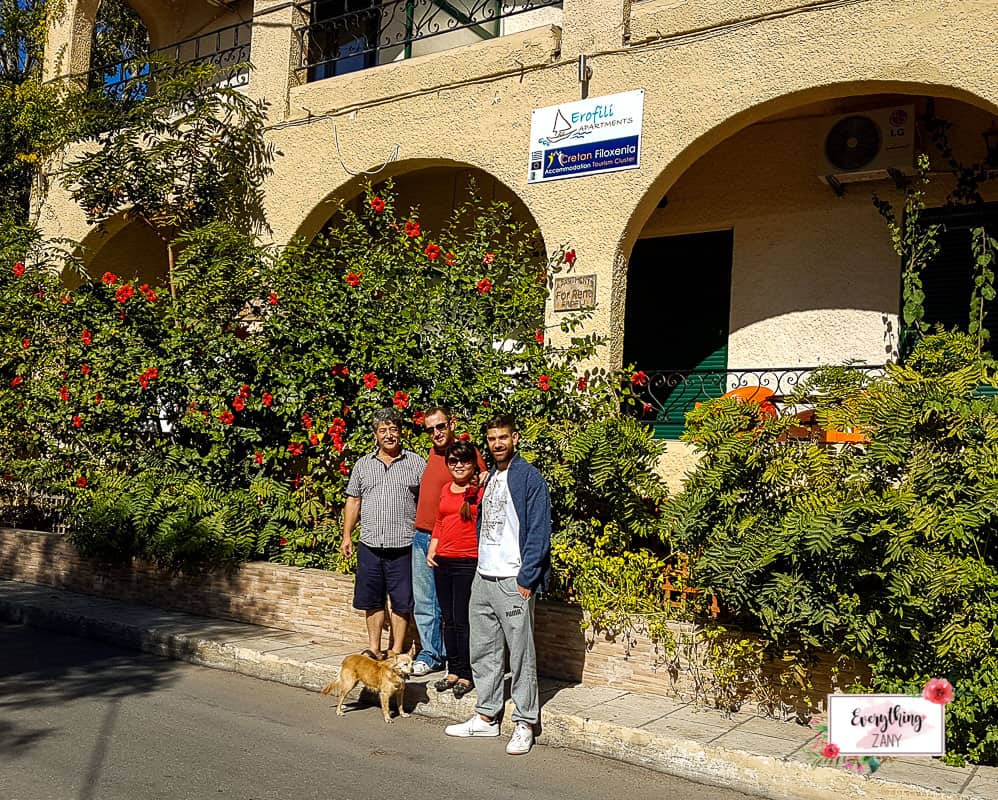 Suggested Activities
Here are the various activities you can enjoy during your visit to Crete.
Ancient Palace of Knossos Tour | Lassithi plateau and Zeus cave Tour | Full-Day Santorini Island Trip from Crete | Crete Food Tour of Chania Old Town
I've written a blog post about the different points of interest in Crete.
Itinerary Details
DAY 1:
We departed from Manchester airport for an afternoon flight.
Due to the flight delay, we arrived in Crete past 11 pm.
After we picked up the car rental, we headed towards Hersonissos to check-in in our Travelopo apartment in Hersonissos.
We were welcomed by our apartment host with lovely Cretan wine and pastry as our welcome gifts.
DAY 2:
Since we had a very late and long day yesterday, we all decided to just roam and explore the neighbourhood where we were staying.
Hersonissos is a lovely coastal town in Northern Crete, and not far from Heraklion.
DAY 3:
We went to explore the Eastern side of Crete.
We visited the Psychro Cave where the Greek God Zeus was born and carried on our trip further east to the colourful town of Agios Nikolaus.
Day 4:
After our hectic day yesterday, we didn't go far from Hersonissos. We visited the capital of Crete, Heraklion to see the Venetian fortress by the Heraklion port.
After our trip to Heraklion, we had a relaxing afternoon back in our apartment in Hersonissos. The apartment has a lovely rooftop terrace where you can just hang out and enjoy the mountain and sea view.
Day 5:
We went to visit the western side of Crete. We set off for an early morning drive and our first stop was in Bali.
Yes, Crete also has a popular beach called Bali. A relaxing place to chill out and enjoy the sun and the stunning seascape view.
Our next stop was Rethymno, We went to visit the Fortezza of Rethymno and saw a stunning view of the whole city. The Fortezza has a glimpse from the past during the occupation of the Ottomans and the Venetians in Crete.
Our last stop for the day was the beautiful coastal town of Chania.
I thought I was in Burano in Venezia when I saw the colourful buildings in the Old Venetian Port of Chania.
From Chania, we set off to finish our day with a 3-hour drive to Hersonissos.
Day 6:
It was an impromptu day trip to go to Santorini. It was the last week of the season, hence we decided to grab the chance and head for a 2-hour ferry ride to the gorgeous island of Santorini.
Feel free to check the best things to do in Santorini here.
Day 7:
We went back to Heraklion to visit the ancient palace of Knossos and the archaeological museum.
It was a great day learning the historical side of Crete.
Day 8:
Our last day in Crete.
We checked out of our Travelopo apartment in Hersonissos around midday.
The Cretaquarium was our last stop, it's one of the best places to go in Crete for families. After our visit to the Cretaquarium, we head towards Heraklion airport to catch our flight back to the UK.
ABOUT THE AUTHOR
Ryazan Tristram
Travel Writer & Photographer
Ryazan has a Bachelor's Degree in Tourism and Hotel Management. She also has more than 10 years of work experience gained from working in the hotel and travel sectors in Asia and Europe. Her work has been featured and published on Huffington Post, Reader's Digest, Discovery Channel, World Travel Guide, MSN, CNBC, GMA, Daily Mail UK, Lonely Planet and many more. She is currently living in the UK as a dual citizen (British – Filipina). Join her in travelling around the UK and beyond with a mission to promote sustainable tourism and share travel guides, travel tips, foodies, history and culture.