I have climbed Snowdon twice, let me share with you the best Snowdon walk experiences that I did. We took the Miners Path, quick but difficult terrain to go up to the summit and descended using a different and longer trail – the Llanberis path. I also tried to use the Snowdonia Train to descent the mountain.
Snowdon is one of the highest peaks in the British Isles (outside Scotland) and the highest mountain in Wales. Snowdon is one of the most popular things to do in Snowdonia National Park and in Wales. Based on Welsh folklore, Snowdon is believed to be the burial place of the giant Ogre Rhita defeated by King Arthur.
Read More: Best UK Travel Itinerary for 2 Weeks
The mountain range is located in the Snowdonia National Park which is protected under the Special Area of Conservation due to its rich biodiversity.
Read More: Cardiff Attractions: Things To Do in Cardiff For Fun Weekend Breaks
Facts about Snowdon
Just in case you are wondering how high is Snowdon? Snowdon is 3,560 feet (1085 metres) above sea level. That makes it the highest peak in England and Wales. Located in North Wales, near Llanberis town. Llanberis is where you can get the Snowdonia Mountain Railway that goes to the summit of the mountain.
From the Snowdon summit, you can see the vast and beautiful Welsh landscape, the Menai Strait, Anglesey and the Irish sea. Snowdon is included in 3 peaks challenge. People do the 3 peaks challenge in order to raise money for charity. The participants need to hike the three peaks of Great Britain in three days.
They are the Ben Nevis (1,345m), Snowdon (1,085m) and Scafell Pike (978m).
Read More: Best Places to Visit in UK Recommended by Travel Bloggers
How to go there
If you are driving along the beautiful Welsh countryside and decide to go directly to Snowdon's Llanberis station and ticket office.
Use this postcode: Llanberis, Caernarfon LL55 4TD
That will take you directly to the car park in front of the Llanberis Mountain railway ticket office and station.
If you want to use the train and bus to get to Llanberis get the train to Bangor
Train station: Bangor
Then walk to the main high street of Bangor town, at bus stop A you can catch bus number 85 (Llanberis) this is around 45 to an hour bus ride.
Alternatively, you can use the Llandudno train station and catch a bus from Llandudno town.
Best Snowdon Walk Trails
There are six trails to go up to the summit of Snowdon. The trek is typically around 6 hours (3 hours to the summit & 3 hours descent)
The 6 best Snowdon walk trails are:
Llanberis Path
Miners Path
Pyg Track
Watkin Path
Rhyd Ddu Path
Snowdon Ranger Path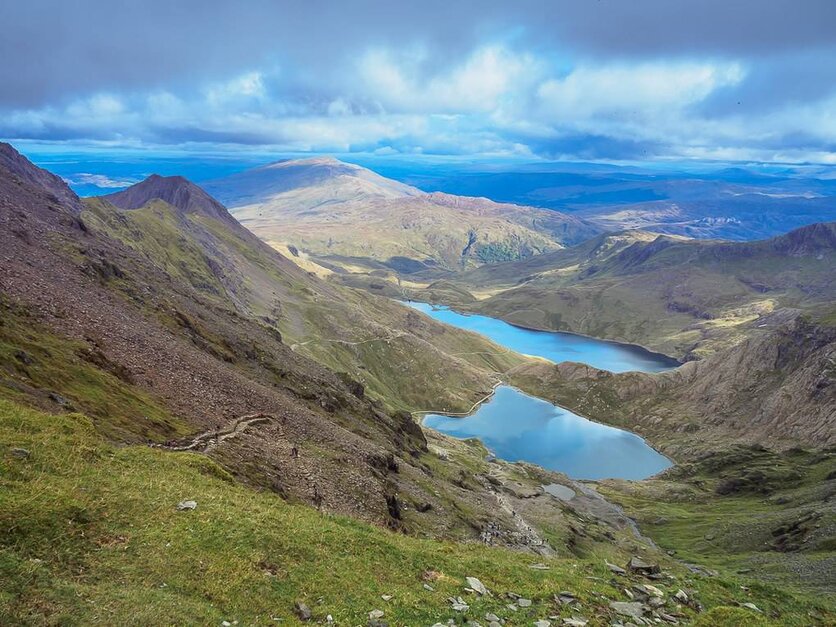 Of course, another way to reach the summit is via the Snowdon Mountain Railway that starts in Llanberis. The train tickets sell pretty quickly so I recommend pre-booking your trip in advance. You can also try your luck and be a standby passenger, but this is not guaranteed.
The Snowdon Sherpa bus service goes around the foot of the mountain to collect passengers and take them to the various other bus stops just in case they've decided to take two different routes on their way up and down Mount Snowdon.
Where to stay
Snowdonia National Park has been a popular holiday destination. There are a few hostels and campsites located at the foot of the mountain at a very affordable cost.
If you want to do a little road trip around the Welsh valley and national park, you can rent an RV (Campervan). There are also some static caravan parks available around the area.
Read more: Pros and Cons of Camping To Let You Decide If Its Right For You
I'm definitely sure you will have a fantastic time hiking to the summit of Snowdon. Make sure to check the weather forecast on the day that you are planning to visit, the paths are slippery and can be dangerous. The strong winds during bad weather can also disrupt your hike.
Always remember, do not litter and help the government to protect and promote the sustainability of the Snowdonia National Park.
Have you conquered Snowdon or just love hiking and the great outdoors? I would love to know your tips and experiences in the comment box below.
ABOUT THE AUTHOR
Ryazan Tristram
Travel Writer & Photographer
Ryazan has a Bachelor's Degree in Tourism and Hotel Management. She also has more than 10 years of work experience gained from working in the hotel and travel sectors in Asia and Europe. Her work has been featured and published on Huffington Post, Reader's Digest, Discovery Channel, World Travel Guide, MSN, CNBC, GMA, Daily Mail UK, Lonely Planet and many more. She is currently living in the UK as a dual citizen (British – Filipina). Join her in travelling around the UK and beyond with a mission to promote sustainable tourism and share travel guides, travel tips, foodies, history and culture.